The Reading House Of Prayer is a ministry with the specific focus of raising up a prayer room that will function night and day until the Lord's return.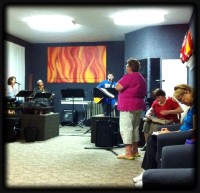 We equip singers, musicians, and intercessors in a form of "team ministry" we call "harp and bowl" (Revelation 5:8). The harp (God's songs) and the bowl (the prayers of the saints) are combined in our 2-hour prayer meetings. The result is joyful (Isaiah 56:7), unified, God-centered prayer.
We carry a strong message of intimacy with Jesus and urgency for the hour we live in. We believe that in order for the promises of God to be fully realized in Reading and the nations of the earth, we must return to the first commandment (Matthew 22:37) as our foundation.

Scripture is clear that we are to "watch and pray" with an urgency born of an understanding of the "times and seasons" in which we live (Matt 24:32). We believe that intercession is our privilege of partnership with the Lord in releasing His end time purposes on the Earth.
Reading House of Prayer is not a church. We are committed to the local churches of our region, and we require a pastoral recommendation for each of our team members. This is born of a heart desire to honor and partner with the churches of the Greater Reading Region. Reading House of Prayer operates under the oversight of regional leaders and pastors from different churches.

Pray, Teach, Mobilize! Mobilizing an army in the greater Reading area who will rise in prayer, worship and agreement with Heaven.